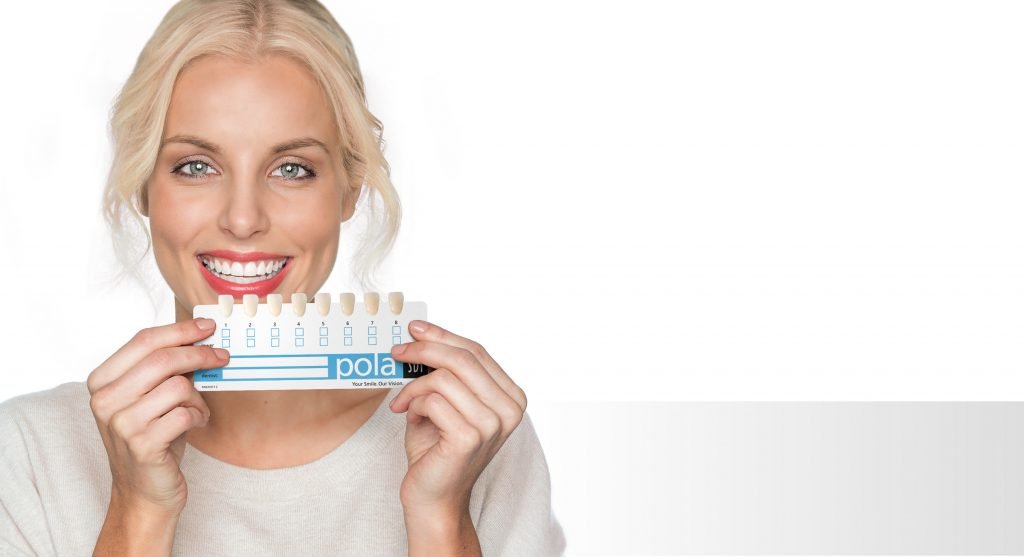 polaoffice+ is 33% faster than other dentist only whitening products available.
Whiter teeth in just 30 minutes treatment time
Pola's unique formulation dissolves and releases the active whitening ingredient immediately to initiate the whitening process. By breaking down and releasing the peroxide ions fast, pola's whitening process is triggered and does not require UV light therapy to accelerate the process. polaoffice+ contains the fastest bleach available to safely whiten teeth in 30 minutes at a neutral pH to protect your tooth and gums.
Protecting your teeth and gums
polaoffice+ is designed to protect your sensitive dental nerves and nerve endings with pola Desensitising Technology (PDT). The combination of neutral pH and PDT reduces the likelihood of gum irritation, burning, pain or long term gum damage.
Prior to whitening with polaoffice+, a gingival barrier is applied to protect gums.
polaoffice+ requires 1 x 90 minute visit to your dentist to achieve whiter teeth. The ease and convenience of polaoffice+ PDT enables you to achieve whiter teeth while protecting your teeth and gums.
polaoffice+ only requires a thin layer to be applied and can be easily cleared away, which minimizes your total time at the dentist to 90 minutes.